Over there, he met several friends and constituted a small team to play in the streets. Once, he tried to play forward and at this moment, all the team realized he was really gifted. He applied to Ibrahim's Football Club, where he started as a substitute forward. Back with young people, who played at the same level as him, Iya could not get tenure. He stopped training and went back to the streets. He trained everyday with 4 or 5 years younger players than him. One day, some players of Ibrahim's FC asked him to organize a friendly match against his younger team. Iya's team won and the Ibrahim's players, impressed, understood he should get tenure in the team. The coach called him back to play as a titular forward.
After this, he played several matches with many teams as a midfielder or a forward
In 1998, when his father came back in Guinea from Europe, Iya's local fans and the wise old men he knew, advised him to take Iya with him in Europe, where he could have more opportunities to develop his game and make his dream come true : to become a professional player. One day, his father went to see a match where Iya's team was playing the finale of a competition. Iya scored the tying goal, which brought his team to the penalty session, and then the victory. Iya scored the winning penalty kick and dedicated it to his father.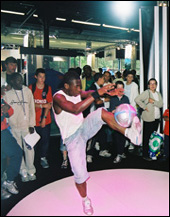 In November 2000, Iya arrived in France. That's here the adventure goes on for Iya. He enters a few Parisian clubs such as ESP, Paris FC, then Paris Saint Germain and at the same time keeps on studying and helping his father, who is an African art merchant. All these activities don't allow him to train seriously and the PSG decides not to continue with him.
With a positive attitude, Iya decides to keep on playing football, but in an original way. His passion, he will express it in front of amazed viewers.
He practises everywhere. In the subway, in the streets when he goes to do some shopping, in well-known locations (Trocadéro, Champs-Elysées, Châtelet...) and even at school! Iya does not leave his ball anymore and the people who see him at work encourage him.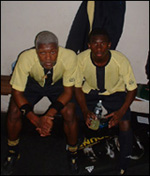 He becomes a unique freestyler and his assiduity will pay! He is invited on TV shows ("L'été de tous les records" where he beats the world record of a trick he has invented), the big sportswear manufacturers want him for their promotional operations and he even participates to exhibition matches with great players, who, seeing him at work, congratulate him. Iya has a great technical ball control, but he also plays with humor. He never hesitates to prove to the public, that it's not magic, and that anybody could do the same.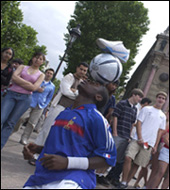 But the young phenomenon has not forgotten his dreams (or his studies to which he dedicates a lot of his time): to take advantage of the techniques he has learnt to become a professional player (he is currently looking for a club) and one day to share a freestyle moment with his idol Ronaldinho .